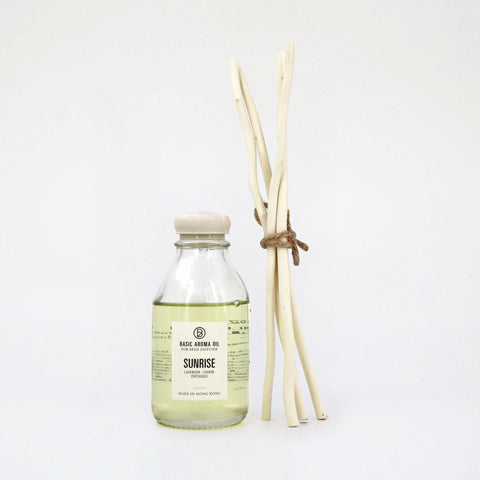 Basic Aroma Oil
100ml / 3.38 fl. oz
A reed diffuser is a great alternative to having an open flame, especially in office settings or areas that have young children or pets. Infuse your home with an aura of peace and tranquility with the Essential Oils for Reed Diffuser. From de-stressing scents to warm spices that will leave you feeling cozy, Basic Aroma Oil has curated a selection of our signature essential oil blends that are 100% natural and wonderfully scented.
HIGHLIGHTS
Aroma base oil for Reed Diffuser. Scented with 100% Pure Essential Oils, no artificial fragrances and alcohol free
Flame and heat free. Perfect for offices or homes with kids and pets
Simply fill the oil into your favourite container, let the rattan reeds soak it up and fill up your home with the natural scent
Featuring Bathe to Basics's signature scents and last up to 1-2 months
Comes with 4 willow reeds for diffusion
---
SUNRISE -  Lemon, Lavender and Patchouli
SUNSET -  Jasmine, Bergamot, Sandalwood
WILDGRASS -  Rosemary, Lavender and Sandalwood
WOOD -  Sweet Orange, Clary Sage and Sandalwood
MOONLIGHT -  Ylang Ylang, Clary Sage, Lavender and Sweet Orange
SEA -  Lemongrass, Eucalyptus, Lemon and Rosemary
POMELO LEAF -  Pomelo, Citronella and Sandalwood
FLORET -  Chamomile, Rosewood, Bergamot and Tangerine
SLEEP LULLABY -  Lavender, Chamomile, Bergamot, Vetiver, Patchouli
WINTER FOREST -  Siberian Fir, Balsam Fir, Grapefruit, Sweet Orange, Eucalyptus, Rosewood, Vanilla, Cinnamon
---
INSTRUCTION: Pour the oil into the diffuser reed bottle. Insert diffuser reeds. Turn over once to expose oil-moistened reeds to air. The oil will continue to wick up the diffuser reeds, scenting your room for 1-2 months. Turn the reeds occasionally to refresh the scent. When the oil is used up, simply pour in an oil refill and replace the reeds. Avoid contact with the eye. Keep out of reach of children. For usage with reed diffuser only. Do not place directly on fabric or furniture. Do not place on varnished surface. Do not place near naked flame.
---
INGREDIENTS: Solvent, Pure Essential Oils
Good
Very good service, so claim
花香味的擴香
佢的味道都好花香味,甜甜的,放係廳/房絕對夠用,sales姐姐都有教點樣可以再擴香得更好,預計可用4,5個月,期待!
After use feedback
The overall feedback after use of the Basic Aroma Oil do meet my expectation, the smell is not too strong and it is easily acceptable.