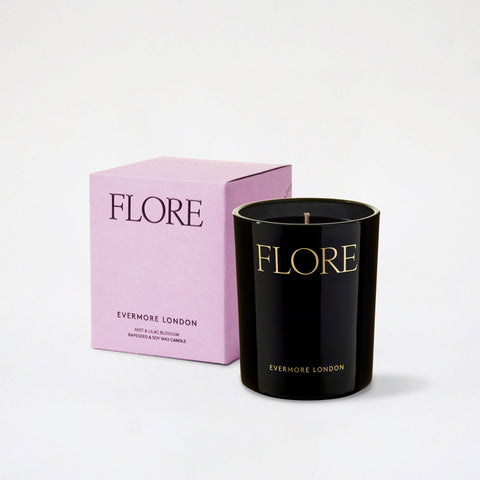 Evermore FLORE Candle
Mist & Lilac Blossom

145g (30 hours burn time)
A delicate union of lilac blossom and top notes of petitgrain over a curious base of clove, heliotrope and ylang ylang.
/ Fragrance notes
Top: petitgrain, orange blossom
Heart: lilac, jasmine, rose
Base: clove, heliotrope, ylang ylang
/ Wax
---
About Evermore London

The spark of an Idea
Inspired by her search for a cleaner fragrance, Evermore founder, Sarah Bell wanted to create her own natural candles. As a result, in 2014 she decided to give the craft of candle making a try. So followed late nights looking for the best waxes, wicks, fragrances and vessels. Eventually she found the perfect blend of vegan waxes and luxury scents. The result was Evermore; sustainable natural candles hand-poured with a rapeseed and soy wax for a long-lasting burn.
Hand Poured in UK
Crafted with care and honesty, Evermore creates beautiful sustainable vegan candles. The 'natural' thread is woven into each fragrance. Each scent they create reflects our world, from night skies and alpine forests to open seas and blossoming meadows. The result is a beautifully scented collection of sustainable natural candles.
Expertly hand-poured in the UK by skilled artisans and enclosed within a hand-blown recycled glass, our candles are the perfect union of fragrance and natural wax, creating a luxury experience that will infuse interiors for up to 30 hours.