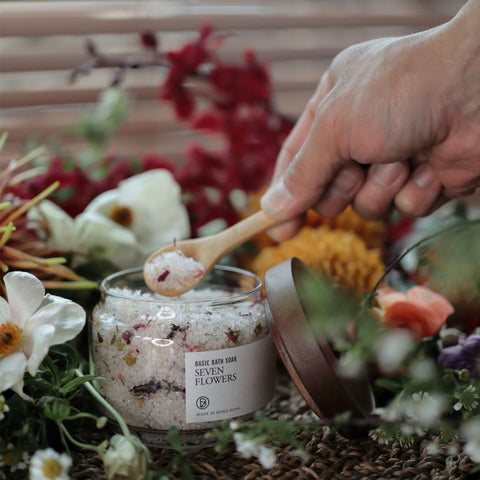 Seven Flower Bath Soak
220g / 7.76 oz.
Dead Sea salt has been used for thousands of years to purify, detox, rejuvenate and revitalize your skin. Its unique mineral makeup lends itself well to the treatment because it cleanses, heals and replenishes skin cells. Our Seven Flower Bath Soaks are infused with this one-of-a-kind Dead Sea salt and Epsom salts, with a blend of seven flowers (including Organic Calendula, Organic German Chamomile Flower, Organic Lavender Flower, Jasmine, Forget-me-not, Globe Amaranth and Peony) and pure essential oils. It is believed that indulging in a ritual bath sprinkled with these seven flowers will raise celestial yang energy around you while filling the air around you with positivity; bringing happiness, love, and bliss.
BENEFITS
A natural remedy to cleanse, heal and nourish your skin. Dead Sea salt is comprised of 21 beneficial minerals including: Magnesium, Potassium, Calcium, Bromide and Sulfur, which softens and soothes dry, itchy skin
Blends with Epsom Salt, which can help promote sleep and stress reduction
Aromatherapeutic blend of pure essential oils for a truly calming bathing experience
Suitable for use on skin prone to eczema, skin allergies and athlete's foot
SUITABLE SKIN TYPES
All skin types
---
INSTRUCTION: Add about 2-4 tablespoons of bath salt and let dissolve for a minute or two before enjoying the aromatic and calming experience for mind and body. For external use only.
---
INGREDIENTS: Sodium Chloride (Sea Salt), Magnesium Sulfate (Epsom Salt), Olive Oil PEG-7 Esters,Calendula Officinalis (Organic Calendula) Flower, Matricaria Recutita (Organic German Chamomile) Flower, Lavandula Angustifolia (Organic Lavender) Flower, Jasmine Officinale (Jasmine) Flower, Myosotis Sylvatica (Forget-Me-Not) Flower, Gomphrena Globosa (Globe Amaranth) Flower, Paeonia Albiflora (Peony) Flower, Cedrus Atlantica (Cedarwood) Oil, Styrax Benzoin Oil, Vetivera Zizanoides (Vetiver) Oil, Citrus Aurantium (Petitgrain) Oil, Cananga Odorata (Ylang Ylang) Oil, Jasmine Officinale Oil, Pelargonium Graveolens (Geranium) Oil
---
NO paraben, petroleum by-product, propylene or butylene glycol, sodium lauryl sulphates, phthalates, artificial dyes, synthetic fragrances. Never tested on animals.
Proudly made in Hong Kong
Good product but poor packaging
Good product but poor packaging
My bath salt bottle disattach itself after I bought it home .
七色花浴鹽
每次打開個樽都心花怒放,天然七種花既混合香氣讓我每次浸浴都置身於仙境一般