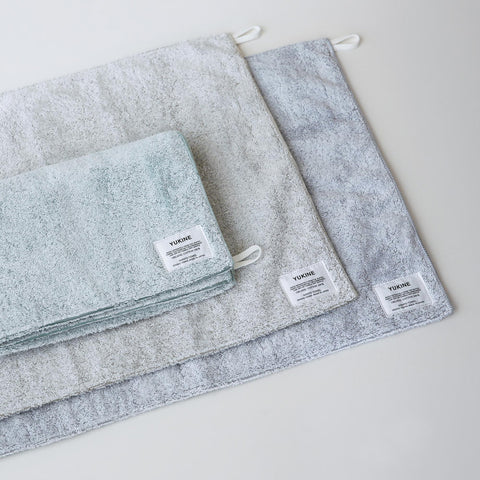 Shinto | Yukine Bath Mat
Introducing the YUKINE bath mat, boasting exceptional water absorption power that gently absorbs moisture. Its refreshing texture will provide you with comfort after bathing. You need not worry about cleaning, as it can be washed just like a regular towel. Moreover, the convenient loop hook enables you to easily hang it up to dry after use.

The YUKINE line by SHINTO Towels undergoes an extensive Atozarashi process to enhance the cotton's natural absorbency. This results in a refined, clean fabric with a unique squeaky texture that becomes softer with each wash. Using white cotton yarns for the warp and colored yarns for the weft, SHINTO Towels creates intricate designs that resemble the beauty of earth, water, and fresh greens peeking out from under a blanket of snow.

BENEFITS

Beautiful design made using traditional craftsmanship
Exceptional water absorption power for refreshing comfort after bathing
Comes with a convenient loop hook that enables you to easily hang it up to dry after use
---
MATERIAL: 100% Organic Cotton
---
SIZE:
BATH MAT 60 x 43cm

---
CARE: Wash and dry them before use. Prefer to wash with similar colors. Avoid overusing fabric softeners as it may damage the fibers and reduce absorbency. Trumble try when available. it promotes and refreshes the cotton strands and fibers thus reestablishing the natural absorption and softness of the fibers themselves. Using a low-heat tumble dry cycle or a gentle tumble drying cycle is best. Pulling or snapping the towel lengthwise while wet can cause the piles (the loops in the toweling) to stretch, resulting in gaps in the material. Handle wet towels gently.